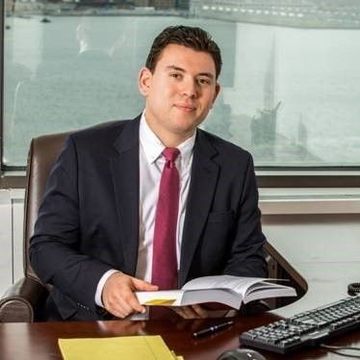 New York Law School
Admitted: New York, District of Columbia
Born and raised on Staten Island, Daniel came to law in a roundabout way. "It was actually my mother's dream to become a lawyer," he says. "She even took the LSAT. Ultimately, she found her niche in medicine, becoming a successful RN for Coney Island Hospital."
Lucky for us, mom's passion for the legal profession rubbed off on Daniel who graduated from New York Law School.
We first met Daniel as opposing counsel in 2021. "He was always thoroughly prepared and a true professional," says Ian Leaderman "I second that," says Dana Sabghir.
"I admired his approach to claims handling as well as the kindness he showed to all parties. I knew he'd be a great fit for Jones Jones." 
That caring nature comes through in his philanthropic endeavors. A high school student during 9/11, Daniel became a passionate advocate for survivors, working with the September 11th Victim Compensation Fund and continuing to raise awareness for first responders and affected families. 
On the work front, Daniel is committed to prioritizing the people in front of him no matter how heavy the caseload. "Being prepared for every client is very important to me," he says. "I'll study their file from top to bottom so they know I'm taking their case very seriously –– and they're more than just a number in a system."
Handling difficult outcomes is also part of the job, but Daniel sees an opportunity in the process. "Unfortunately, not every hearing or negotiation can go our way, but I make sure that nothing is left on the table, every tool is used, and we learn lessons that only help us get better."
On the home front, Daniel is married to another successful attorney, so it's no surprise that their little ones were early talkers. "Our three-year-old son is the negotiator with a knack for trading toys," he laughs. "His younger sister is the litigator, appealing any decision her parents make."
Downtime may include a round of golf or a fancy date night, but, most often, it's dance parties at home with the kids. 
We love how Daniel puts people first, at home, at work, and even in a courtroom battle.